Lead Generation & Management
Level-up your lead game with our powerful lead generation platforms and innovative response tools.
Let's Get Started
866-401-9778
Why Pay Thousands?
Get First-Party Leads for Less!
Average less than $3 a lead. Trust us, you won't find that anywhere else.
Anyone can tell you they generate high-quality leads, but how many actually deliver on that promise? Get the first-party leads you expect – and more – with Cars For Sale.
N

Average nearly 50 first-party leads a month

N

We don't share or sell your leads, ever

N

Message on-the-go with RapidReply Messaging

N

Instant notifications for fast follow-up

N

Multiple lead sources, one central hub

Nearly 60% of dealers say Cars For Sale provides the same or higher number of leads as other higher-cost providers!
Level Up Your Lead Game with Our Powerful Lead Trio
Dealers see up to 567% more leads each month when using these lead MVPs together!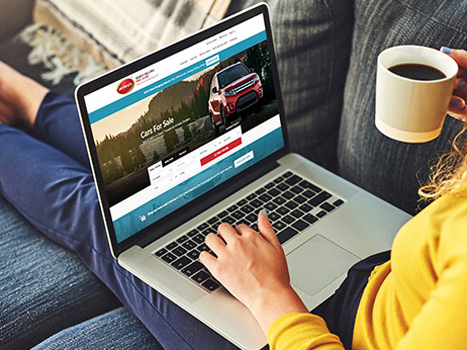 Carsforsale.com
Dozens of first-party leads from 100M annual car shoppers nationwide.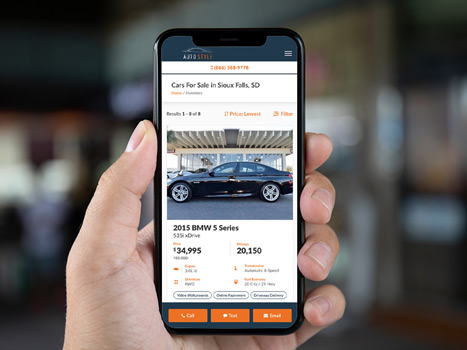 Dealer Website
Optimized search ranking and prominent lead actions on every page.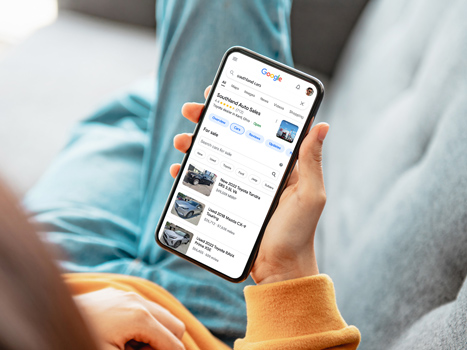 Google Vehicle Listings
Free exposure on Google helps shoppers find your inventory faster.
Leads for Less, Guaranteed!
Cars For Sale exceeds dealers' lead expectations 60% of the time. At $99, that turns into tons of leads at an unheard-of low cost!
N

Carsforsale.com has seen an 18 month lead growth rate of 23% and climbing

N

Dealer Websites have seen 25% lead growth over 18 months

N

Globally, dealers average less than $3 a lead, with some dealerships paying mere cents on the dollar

"Cars For Sale generates more leads in my area than other big software providers, at 1/10th of the price!"
Gretchen S. | Dealership Manager
3-in-1 RapidReply Messaging System Makes Conversations a Breeze
Message all your leads in one central spot, in the office or on-the-go!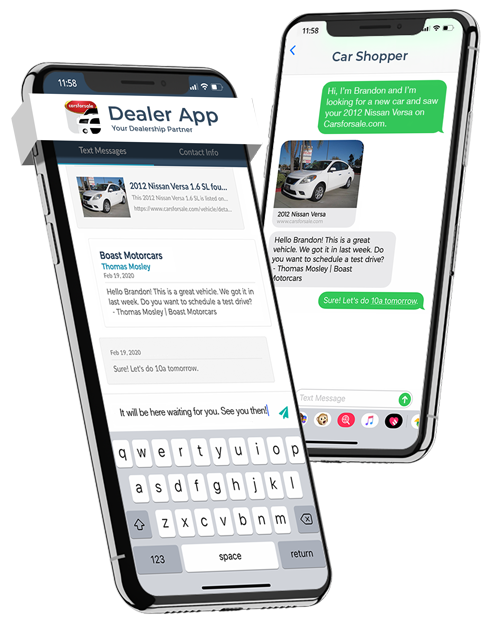 RapidReply Text Leads
Customers love it, and now you've got it! Respond in seconds to customers' texts from Carsforsale.com and your website.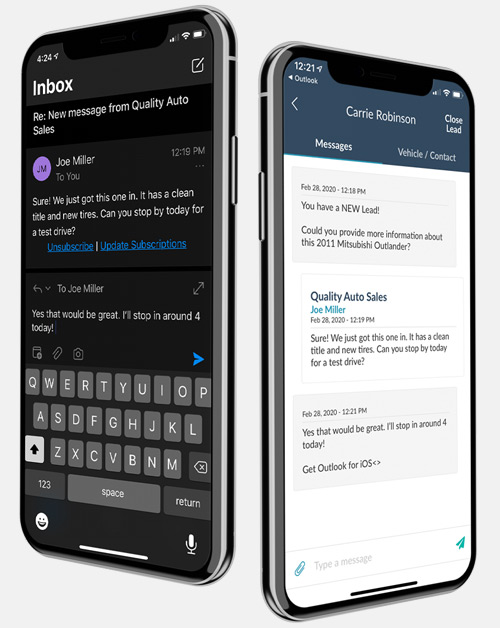 RapidReply Email Leads
No more toggling between your Dealer App and your inbox. Reply to email leads directly from the app for more efficiency.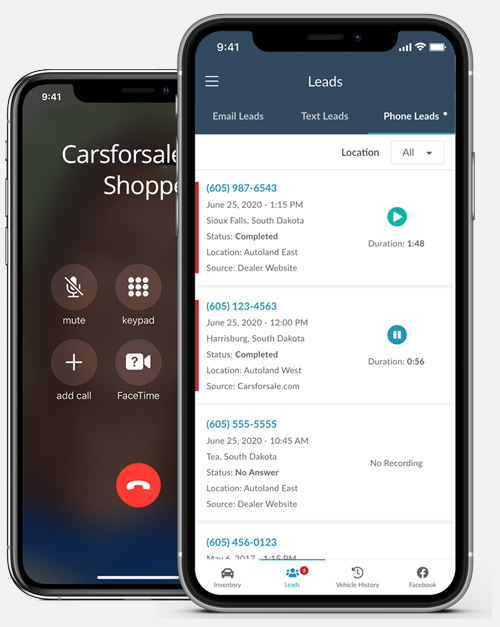 RapidReply Phone Leads
Replay stored conversations so you never miss key details and insights from Carsforsale.com and your Dealer Website.
First-Party Leads. ALWAYS.
Just as it should be.
Carsforsale.com leads are yours alone. They're never sold or shared – EVER – so you always keep the business you earn.
N

Average nearly 50 exclusive, first-party leads every month

N

Instant alerts ensure you never miss a sales opportunity

N

Real-time response with our RapidReply Messaging System can improve sales by up to 60%

"We get more leads from this platform than any others we have used."
Mischelle A. | Owner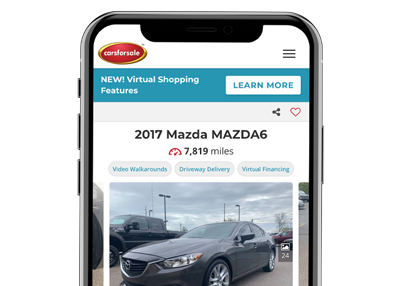 Dealers adding Virtual Shopping Badges to their inventory are seeing a 114% increase in leads!
One-Stop Lead Management. We Like to Call it Lead Central.
Leads from across the web seamlessly accessible – it's lead management bliss!
Leads From Everywhere, All Under One Roof
Car shoppers are viewing your inventory all over the web, and we ensure those leads get organized in one spot so you can manage, respond, and sell from one central hub.
N

Assign leads to your sales reps for fast distribution

N

Respond to any lead from any device, in the office or on-the-go
Automatic Processing for Your Loan Application Leads
N

Leads are automatically sent to your financing partner

N

Saves you time and helps customers get faster approval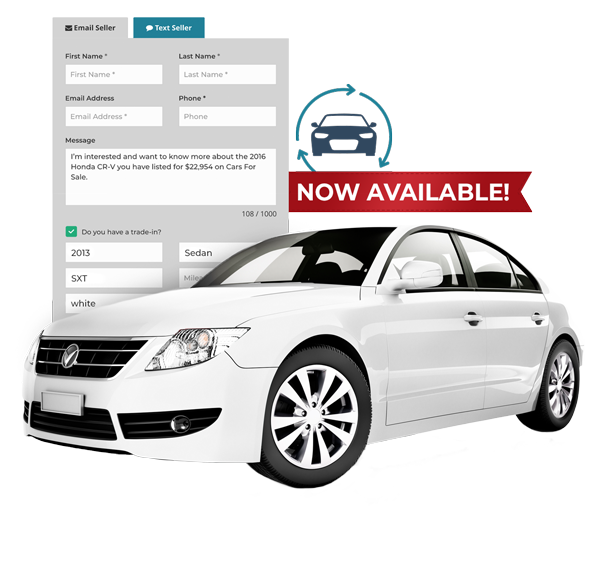 New! Trade-in Leads Help Build Your Inventory Pipeline
Your newest inventory source is here. Trade-in leads are now included on Carsforsale.com Email and Text Leads.
N

Gain leads. Gain inventory. It's a win-win!

N

Seamlessly source inventory from engaged buyers

N

10% of leads received now include a trade-in

N

See better negotiation with trade-in vehicles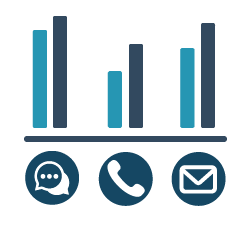 Manage Smarter with Real-Time Lead Reports
We know leads are central to your business. That's why we make it easy to view, sort, filter, and export lead reports so you can turn leads into customers, faster.
Get our full Suite of Solutions today for just $99/month. No contracts. No set-up fees. Just dozens of powerful tools.